Field Day

Field Day: Ham Radio's Open House
Every June, more than 40,000 hams throughout North America set up temporary transmitting stations in public places to demonstrate ham radio's science, skill and service to our communities and our nation. It combines public service, emergency preparedness, community outreach, and technical skills all in a single event. Field Day has been an annual event since 1933, and remains the most popular event in ham radio.
Details

Hits: 1898
Field Day History
The following table provides a history
of Field Day results for the club
Details

Hits: 2186
Field Day Challenge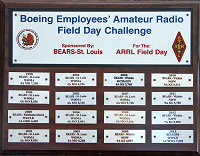 Field Day Challenge
The Field Day Challenge is a private competition between Boeing affiliated amateur radio clubs participating in the ARRL annual Field Day event. The object of the Field Day Challenge is to motivate Boeing affiliated clubs to participate in the ARRL annual Field Day event, create a friendly competition and camaraderie between clubs, and to recognize excellence in contesting performance. A single plaque is awarded to the winning club on a revolving basis.
Details

Hits: 1982
Old-Field-Day
By far, Field Day is our largest planned club activity every year
Field Day is a competitive event designed to simulate an emergency situation where Amateur Radio operators, commonly known as hams, set up radio equipment in the field to compete for score, to test the readiness of Amateur Radio Emergency Communications, and a chance to meet new friends and test the limits of our hobby. The Boeing Employees' Amateur Radio Society (BEARS) also provides communications support to the community as a public service and to the Boeing Emergrency Prepartedness Task Force (EPTF) here in St. Louis. The EPTF is composed of Boeing employees, whose specific skills might be required at the scene of a major emergency.
Field Day occurs annually on the fourth full weekend of June. It begins at 18:00 UTC Saturday and ends at 21:00 UTC Sunday.
The next ARRL Field Day is June 24-25, 2017